The Heart and Soul of In Your Wildest Dreams
January 21, 2020 - 9:34 am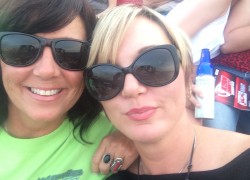 I was raised by a strong woman, Dixie Brewer. If you are reading this, and you live in Bakersfield, chances are you know her. I can't seem to go anywhere without someone saying, "Hey I know your mom. She's awesome." Everyone thinks my mom is their best friend. She got that from our Grandma Trudie who raised us to never meet a stranger and to help others whenever we could. Twelve years ago, when I was selling Real Estate, a business opportunity popped up on the market and I knew my mom just had to have this business. It was her passion. After working in real estate herself, and then in media sales, she was moving home to Bakersfield and needed a fresh start. Back then, IN YOUR DREAMS was in a little pink house on H Street and it was marketed as a higher- end fashion consignment store. Mom fell in love with it and the rest is history.
Before we knew it, we were looking for a second location. We discussed a name for the new place, and In Your WILDEST Dreams was the first choice. Why? Because we opened up our consignment opportunities to antiques, collectibles, home decor and more. Dixie kept the place on H Street and opened up on Rosedale Highway. As the company kept growing, I could see that she was really working too much going back and forth and with liited staff. We had a mother-daughter chat and decided it would be best to get the locations all under one roof: ONE VERY BIG ROOF in the heart of downtown. She purchased the building at 1723 18th Street,where Vincent Clerou had his business for generations "Vincent's Sporting Goods." The building carries a lot of Old Kern Charm and is situated across the The World Famous Padre Hotel. It was love at first sight. The building offered In Your Wildest Dreams the chance to expand into 21,000 square feet and provide "3 floors of shopping fun."
The entire time Mom was working the business and growing the business, I was able to hear about the challenges and successes. We talked for hours and hours about it. I was pursuing a career in Radio Sales Management and could offer creative advertising outlets for her on the business level as well as let her vent when she wanted to cry from sheer fatigue! I don't think anyone knew the store was going to grow to this point. Clearly, the service In Your Wildest Dreams provides: consignment, was filling a genuine need for the public. Mom's a YES person so if she can help you, she's going to find a way. Her heart and dedication to helping people shows in her success.
Several years ago, she started doing on- site estate sales because she just couldnt serve everyone in the store. 21,000 square feet just isnt enough! You'll now see her lime green estate sales signs all over town each weekend. She's built a team of highly qualified and caring people who strictly work at the estate sales setting up, pricing, and holding fantastic sells. The email data base of the estate sale shoppers is phenominal. If you want to get on that list, send your email address to me directly at imgingerlynn@gmail.com The estate sales have took off so much that it was clear more help was needed in the store.
Last year, in May of 2013, I resigned from my career in Radio and took a leap of faith to be the Marketing Director and General Manager of In Your Wildest Dreams. Work with my Mom? YES! People ask me.. is this weird or hard? The answer is, "No." Not really at all! We are too busy to fight and love eachother too much not to work through any business issues we come across. This was one of the best decisons I have ever made in my life. Who better to represent the store in a way my mom visions it to be? You may have noticed some changes in the last year. Small changes were made to our logo and signage. We have a new moving truck so we can offer delivery and pick up. We have moved and expanded our clearance room. Our team has really grown at the store and we have hired an ecclectic mix of people who share our values and customer- first attitude. The one thing we all have in common is that we love people, our mix of vintage and designer label fashion, and our WILD Collection of home decor and antiques.
We now have a webiste where you can check out our current estate sales, keep up with our store events, and shop online. We have implemented drop -and -go Tuesdays and Thursdays to help our customers get in quicker to consign their clothes. I welcome any comments and suggestions as we continue to grow In Your Wildest Dreams and improve your shopping experience. I'd love to hear from you! Email me at Imgingerlynn@gmail.com
Time to get back to work! Gabbi (Our Blue Haired Beauty) is at the front helping people check-out, Miss April (our fashion -friendly -social -media queen) is running around assisting customers and taking photos. Candace (Our favoite fiery red head ...also our Inventory Manager) is pricing new merchandise and getting items ready for sale. Rosa ( our queen of organizing and merchandising) is gettting the store ready for a busy Saturday tomorrow. Lucy and Luca just passed through with my Mom because they just wrapped up an estate sale in Shafter. Just another day at In Your Wildest Dreams.. doing a job we all love so you we can offer you all of your favorite things at great prices! Thanks for supporting us through the years as we grow and change. We have some really exciting big changes coming in 2014 and 2015 that we know you'll love! Stay tuned!
Ginger Boyd
IYWD GENERAL MANAGER