We want you to have a successful trade experience in our store. Following our simple guidelines creates a win-win experience at Wildest Dreams.
#1 Our shoppers want to buy clean clothes with no rips, stains, or tears.
#2 Our shoppers want to buy current trends and really cool vintage and costuming.
#3 Our shoppers are looking for name brands. We want your Free People, Bebe, Escada, Ralph Lauren, White House Black Market, Banana Republic, Guess , Gucci, Prada, Lush, Juicy, Lucky Brand, Joes Jeans, Levis, Miss Me, Get the idea? In Bakersfield, our shoppers also like Chicos, Talbots, Forever 21 and Charlotte Russe.
#4 We say no to big warehouse brands. We try to keep it really special and are looking for quality and uniqueness.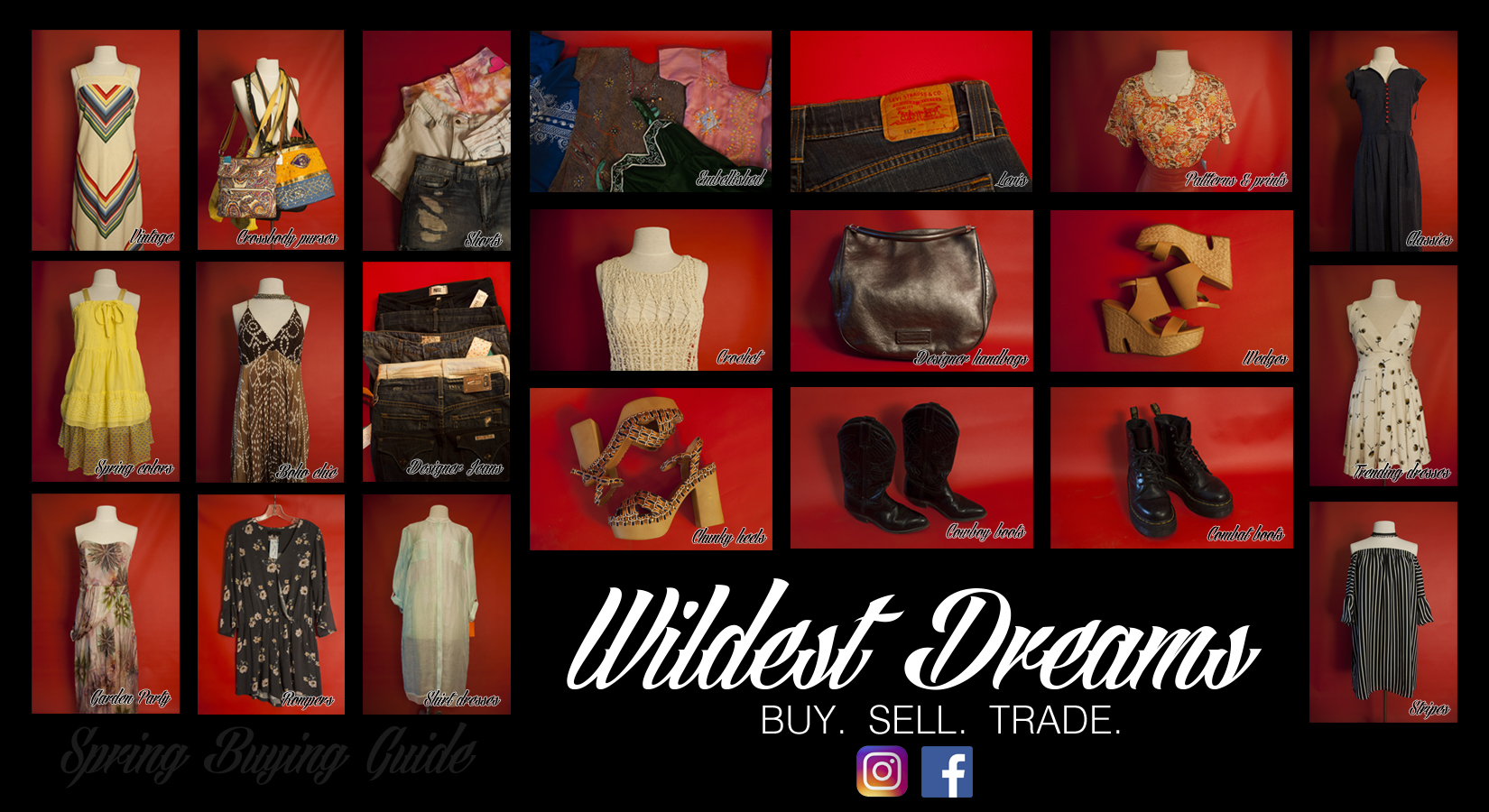 50%TRADE
Maximize your trade-ins at Wildest Dreams where you can turn your previously loved items in for trade-credit in our brick and mortar location in Downtown Bakersfield, CA. We will credit your Trade Card with 50% of what we will sell your items for in our store so shop around and find something you can't live without.
40% Consign
We offer consignment services to boutiques all across California and customers who bring in high-end items at Management discretion. Consignment services are for a 90 day term and require a contract.
30% CASH
Need some cash? We can handle that for you. Wildest Dreams pays 30% of what we will sell your items for on the spot for your on-trend, name brand fashion, bags, shoes & accessories. Shop around while we research your items and sort them.
Thanks for recycling your wardrobe with Wildest Dreams! Your decision helps the environment. You also have an opportunity to donate what we do not accept to several local Charites in our community. Just drop your items in our donation bin. We support Trudy's Kids (Transitioning Foster Youth), The Alliance against Family Violence and Dress for Success and will happily take your items to these people in need.

You may call for a free consultation or house call if you need larger items cleared before bringing them into the store. It is always best to forward photos via email to inyourdreams@att.net for pre-approval.
© 2013 In Your Wildest Dreams Consignment & Antiques. Consignments and Antiques in Bakersfield CA.