Artist Retreat - Art - Supplies - Car - Furniture
ESTATE SALE SUCCESSFULLY COMPLETED
ESTATE SALE SUCCESSFULLY COMPLETED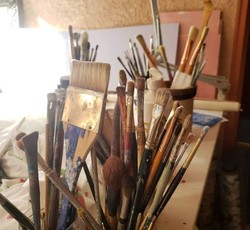 There is so much more to this sale than art. The home is like a gallery. AMAZING! Moving to Florida to start a new chapter of her life. Patti Doolittle is leaving behind a huge part of her collection. For 50 yrs. her art can be found around town in art galleries and murals on building walls. Doolite has been putting pastels, oils & acrylics on paper & canvas. Her original paintings, prints, books, magazines, trading cards and art supplies can all be found here. Added to her collection are her favorite artists work too.
Furnishings, bedroom sets, dressers. living room sofas and tables, desks, office furniture & TV's. Kitchen is stuffed with tons being left behind. Lots of sterling and collectibles. Tools, patio set, bench. Clothing, hats & linens.
1999 Acura car in great shape.
This is a quality and very unique sale that you won't want to miss.
CLICK ON LINK TO SEE SNEAK PEEK
https://estatesales.org/estate-sales/ca/bakersfield/93312/artist-retreat-art-supplies-car-1719589
© 2020 In Your Wildest Dreams Consignment & Antiques. Consignments and Antiques in Bakersfield CA.