Gigantic Shafter Estate - Jewelry - Designer Clothing - Everything
ESTATE SALE SUCCESSFULLY COMPLETED
ESTATE SALE SUCCESSFULLY COMPLETED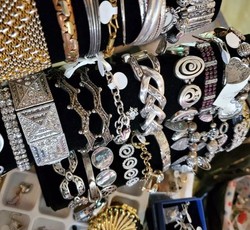 Our sellers are off to Oregon but currently continuing to live at the estate helping sort and make final choices for the move. 1000's of items. Jewelry maker and collector having costume, custom, fine and sterling jewelry. Jewelery makers dream. Totes full. Fixtures and findings galore. Artist at heart. Paints & crafts,stamp blocks, all mostly new. If she bought 1 she bought 10 in every color. Clothing and shoes have overtaken the home. Racks and totes by the 1000's...unbelievable! Our Mister was in recording having worked with and collected Elvis. Lots of unique collectibles. His speaker's and surround system are available too. Kitchen is stuffed with glassware, small appliances and tons of brand new gadgets. Toys, toys & toys. Tools & electronics. Camera's & accessories. Furniture pieces. 1978 Chevy Truck 454 engine with 160,000 miles. Runs. It's seriously a giant 5000 sq ft eclectic fun ghostly place to be. We'll be spreading dozens of tables outside to make everything fit. 1 whole room just for jewelry.
Remember our client is still living in the home. Please do not disturb!
Mark your calender and don't miss this shopping spree. Gift ideas galore!
CLICK LINK BELOW FOR SNEAK PEEK PHOTOS
https://estatesales.org/estate-sales/ca/shafter/93263/gigantic-shafter-estate-jewelry-designer-1740247
© 2020 In Your Wildest Dreams Consignment & Antiques. Consignments and Antiques in Bakersfield CA.