Black Beauty (Muscle Car) meets Pink
Estate Sale Successfully Completed
ESTATE SALE SUCCESSFULLY COMPLETED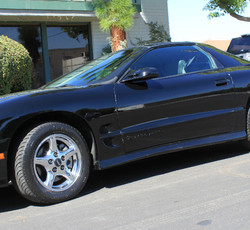 BLACK BEAUTY meets PINK! We are loving PINK & BLACK! Hello Kitty, Barbie, my Pretty Pony, Chandliers and a BEAUTIFUL BLACK MUSCLE CAR. This little charmer is like a boutique of Designer label clothing, shoes and accessories. Patio furniture, black iron bench arbor, bbq grill, 2 cool retro bars, chairs and a bunch of funky stuff, comic books, scary Halloween items and some repurposed black furniture. You just can't miss this unique sale. Our young lady (seller) has met her prince charming and Daddy's selling his Car too.....hmmmmm (wedding $$$)?
Daddy's beautiful black on black 1999 Firebird Trans Am probably has the lowest miles of none other here in California, 27,000 mi. (Yes, 27,000 mi) Adult only driven car and 2nd owner. It has all maintenance records and Car Fax to go with it. Truly amazing.
OH....we also have another car....1998 Buick Regal. Low miles 78,000, super clean, leather seats..Nice! Includes Car Fax.
PS.....a side note......we have 2 other sales this same week.. Please look for our other sales. (soon to be posted)
Items for sale