MOMMA'S MOVED...and left years of treasures behind!!!
Estate Sale Successfully Completed
ESTATE SALE SUCCESSFULLY COMPLETED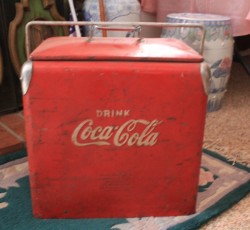 Many years in one house equals "treasures"!! This 4 bedroom home is loaded with great treasures. Living room furniture, bedroom set, office furniture including a fire proof file cabinet, trunks, book cases, china hutch and curio cabinet. The kitchen is over flowing with china, flatwares, glassware, cookware & appliances. Vintage clothing & toys, collection of storybook dolls, camera's & electronics. Patio furniture, chairs, ice chests and a BBQ. We dug out camping & fishing gear, very cool vintage Coca Cola ice chest, old unique fruit boxs, wooden tool carrier, vintage games, tools and fun unique old vintage items from the over stuffed garage. IT'S FUN! IT'S UNIQUE! IT'S A TREASURE HUNT!
For our local followers we are hosting two sales this same weekend. Look for our other sale this week!!
Read more at http://estatesales.org/bakersfield-ca-estate-sales/mommas-movedand-left-years-417225#chov3817wEJ9gPCv.99
Items for sale