The Closet at River Lakes - Got to see it to Believe It!
ESTATE SALE SUCCESSFULLY COMPLETED
ESTATE SALE SUCCESSFULLY COMPLETED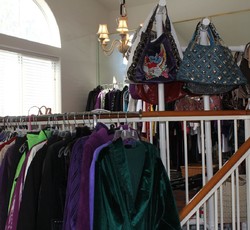 This house has been transformed into a "house size closet"! Clothing of many sizes and most are new. Coats, jackets, athletic wear, dresses, pants, blouses, shirts, sparkles, denim,floral, plaid, neon & more. Shoes of every color & multiple sizes. Boots, sandals, loafers, flats, heals, casual, slides & tons more.. Purses Galore. Belts, hats & scarves too. Costume jewelry, nail polish & hair accessories. So,So Much!
Furniture, entertainment unit, dining table, accent tables, china cabinet, clothing fixtures, shoe racks, shelving and organizing items galore. Kitchen items, Refrigerator, Washer & dryer. TV, games, CD's, DVD,s, crafts, toys & tools. Holiday décor - Christmas, Halloween and Easter. Great Stuff!!
© 2020 In Your Wildest Dreams Consignment & Antiques. Consignments and Antiques in Bakersfield CA.