Kern County Sheriffs- Public Administrators Sale
ESTATE SALE SUCCESSFULLY COMPLETED
ESTATE SALE SUCCESSFULLY COMPLETED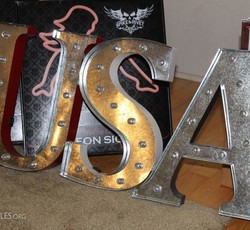 THIS IS A PUBLIC SALE. EVERYONE IS WELCOME. The KC Sheriff - Public Administrator's Office has hired us to liquidate an estate of a deceased. This estate will blow your mind. INDISCRIBABLE, UNBELIEVABLE, EVERYTHING NEW WITH TAGS! We have sorted, stacked, piled, hung in every inch of a 2-story 5000 sq ft estate home (home will also be for sale). Home not lived in, but, hoarded in. Words can't convey. Remember, 90% of EVERYTHING is NWT and/or in boxes. If there is one of something there are multiples by the 100's in some cases.
Furniture
King Sz Bedroom sets w/new mattresses
Queen Sz Beds - headboard/foot board/frame w/new mattress
Bar Stools - New - different styles
Dressers, Chests, Tables
Faux Decorator Rm Fireplace Electric Heaters
Lamps
Linens - sheet sets, comforter sets, blankets, throws, ALL NEW
Art
Poker folding game table
Pool Table - like new w/beautiful blue felt - pool sticks & game accessories
Games - NIB - lots of different kinds
Vintage Juke Boxes - we have two
Sporting goods
Hockey sticks, pads, gloves, shin guards, jerseys - numerous teams
Baseball gear, memorabilia
Weights
Neon Signs - NIB - all different - dozens
Beer signs - new & vintage
Party games, themed party favors, lots of fun themes (Hawaiian, Bachelorette, Star Wars, Kids, Adults, lots of box lots of party items.
Barware - bar glassware - all new unique bar items
Harley Davidson Galore - 100's of items - leathers, chaps, vests, denim, boots, gloves & helmets men's & women's. Motorcycle parts, saddle bags, novelties, signs, clothing, models, die casts EVERYTHING HARLEY
Costumes - room full of all kinds & accessories. COOL STUFF in multiples
Panties, Bras and bathing suits - All NWT 100's in all sizes shapes and colors.
Men's themed Boxers (fun wear) All NWT and New pkg's of Tee Shirts, Socks (100's)
Shoes, Sandals, Boots, Flip Flops, men's & women's - NEW
Sunglasses - NEW 100+
Hats - Caps - Beanies - NEW - 100's
Clothing - 1000's of pieces ALL NEW Pants, Shirts, Great Novelty Tee's, Jerseys, Rugby Shirts, Shorts, Sweat Shirts & Sweat Pants, Athletic Wear, Coats, Jackets
Washer/Dryer - 2 new sets
Refrigerators - mini fridge, bar size, wine fridge and apt size NIB
Range - NIB
Vintage Car Memorabilia, clothing and signs
Budweiser - signs, Vintage Bud Girl tees, jackets, novelties
Tools - WOW - NIB's,
Chain saws
Transmissions and engine blocks
7.5X8.5 NIB Home Depot Storage shed
Lawn Mowers - NIB
Weed Eaters - NIB
Sprayers, Blowers - NIB
Craftsman Tool Chests and Boxes -NIB all sizes -
Yard art - Large Metal Arches (Cool) Concrete statues
Swimming pool gear ALL new - noodles, beach towels, googles, caps, pool floats, toys, games floating thermometers & umbrella's
Patio Chairs - different sets - cushions for chairs and lounges
Mail Box Collection - NIB's
Thermos and Cooler (ice chest) collection - dozens
Fencing Panels
Yard Tools
Home décor and decorator items
Ladders
Kitchen Blenders, microwaves, small appliances boxed sets glassware's, dishes and flatware sets
Air Conditioning Units NIB
Holiday Decorations - Christmas, New Years, St. Patty's Day, Thanksgiving, 4th July....Everything
Vintage - beer, drag racing & sporting themed items & clothing
TOOOOOOO MUUCCHHHHHH!!!!!
No Public Restrooms. Bring lots of your own bags and boxes for your purchases. Bring a chair to sit in line, Plan on signing a liability release waiver to enter the property (boarded up and tall weeds). It will take you time in each room to look. IT'S PILED DEEP...bring patience!! Home is on busy street, slow way down parking attendants will assist where needed, be careful.
This is a special kind of sale, You'll be calling everyone you know. Schools supplies, summer activities, home improvement, clothing, decorating, remodeling, collecting, tools, rustic. IT'S ALL HERE!!!! ALL NEW!!!! ALL PRICED TO SELL!!!