Lost Lease Business Liquidation
ESTATE SALE SUCCESSFULLY COMPLETED
ESTATE SALE SUCCESSFULLY COMPLETED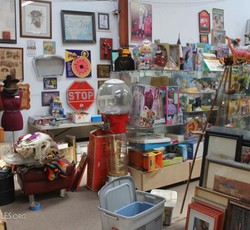 Downtown Bakersfield, Ca. is losing a Unique Gem of a Shoppin' Spot!! No time for a gradual markdown "Going out a Business" kind of sale.......It's going to be a 4 DAY MARATHON - ALL MUST GO kind of sale!! EVERYTHING, fixtures, displays, shelving, EVERYTHING!! Truck loads of new inventory never seen by the public has been added for a complete company liquidation. DON'T MISS THIS UNIQUE OPPORTUNITY!! FUN STUFF!!!
Furniture - Hutches -Tables - Dressers - Desks - Book Shelves - More
Western Items - Saddles & Pads- Boots - Trunks - Iron Works - Leather Goods - Wagon Wheels
Toys - Modern - Old - Collectible - Dolls - Games - Novelty
Military - Clothing - Jackets - Collectibles
Tools - hand - power - large - small
Gardening - tools - yard art
Jewelry - Totes full of everything - Costume - Sterling - Gold
Belt Buckles
Novelties Galore
Store Fixtures - Shelving - Displays & Counters
Marbles
Hummel's
Star Wars
Camping
Whiskey Barrels
Audio Equipment - Vintage
Musical Instruments
Waterford Crystal - China - Cookware's - Utensils
KitchenAide Mixer
Roller Skates
Gaming of all kinds in multiples - controllers & wiring - games
Dental Equipment
Dog Houses
Car Parts
Mechanical Bull - ride um cowgirl
Commercial Grocery Store Cold Boxes (from Fresh and Easy)
Wood Shop Tools
Signs of all kinds
Keg-or-a-tor & Keg
Lawn Mower & Edger
MORE - MORE - MORE & MORE
Our Clients say "SELL IT ALL"!!
MORE PICTURES WILL BE ADDED AS WE CONTINUE TO UNLOAD AND ADD THEIR UNSEEN BACK STOCK. Check back often.......