Decades old antique store uncovered
ESTATE SALE SUCCESSFULLY COMPLETED
ESTATE SALE SUCCESSFULLY COMPLETED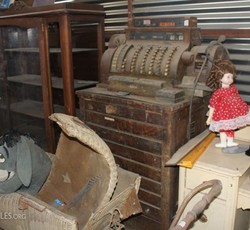 ADDRESS RELEASED THURSDAY 4am - Security Purposes
Guard Dogs on Duty and Resident Caretaker - PLEASE STAY AWAY UNTIL SALE DAY!
American Pickers were not called, this ones for you!
WARNING: You're about to have some REAL FUN!! Barn, sheds, sea train, patio's, garages and all outside. This is a deceased collector and antique store owners estate. Decades of inventory and collections have been sitting uncovered. We have dug out some amazing finds. Doll makers dream, Ceramic molds (100's), doll clothes (new old stock), dolls, doll wigs, eyes, hats, shoes...DOLL EVERYTHING! Toys (100's) are new old stock, tons for collectors and resellers. Vintage riding toy collection, tractors, bikes, cars, scooters FUN! Trunks of every size. Glassware's, pottery & collectibles. Lots of old wood display cases, racks, armoires & mercantile cabinet. Bin tables and an old antique store cash register. Tools of all kinds, big, little, power, hand & garden tools. Shop Smith. Bins, totes, crates, baskets, wire & wood. Bikes, vintage tandem too! Industrial, rustic, unique, antiques, oddities. You name it!!! We might have it!
Come prepared to get dirty. Bring gloves, mask, flashlight & wear boots.