Tehachapi Spanish Hacienda GOURDgeous Estate - Garden Art - Amazing Furnishings - Horse Tack
ESTATE SALE SUCCESSFULLY ENDED
ESTATE SALE SUCCESSFULLY ENDED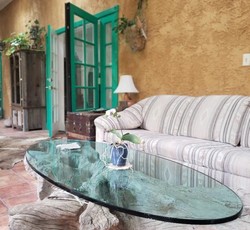 This Tehachapi Hacienda is like no other. Well know gourd grower and artist moves to Tennessee leaving behind everything but the horses. Rare opportunity, don't miss it! Come spend the day in beautiful Tehachapi taking in the fresh air, exploring & having breakfast or lunch.
Leather sofa and sectional
Driftwood & glass table
Armoires
Barn Wood Furniture Pieces
Bedroom Set
Dining Table and Hutch
Roll Top Desk, Office Furniture & Supplies
Beautiful Kitchen Full of Great Items
Refrigerator
Washer Dryer
Portable Sauna
Lamps
Cowhide Rugs - All Colors & Sizes
Composter
Garden Art & Benches Galore
Wrought Iron Garden Decor
Patio Furnishings
Chi minaya
Potted Plants
Wind Chimes
Water Storage Tanks
Horse Tack & Saddles
Equine Supplies & Feeders
Custom Made Hay Cube Trailer- Amazing
Jewelry - Fine & Costume
Clothing - Western - Unique
Gourd Art - Life Size - One of a Kinds - Hand Painted Pieces
Gourds - 1000's in all shapes & sizes
Horse Hair Rope
Western Decor
Artist Retreat with loads of unique, unusual, one of a kind pieces
Leather Scraps totes full
Salvage Items
Garage Shelving
Tool
Gardening Tools
Wheelbarrows & Carts
To much fun stuff to list.
Updates continuing to come. Please keep checking back.