Bakersfield Antique District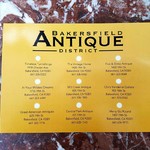 We are excited about the Antiques District. Things are constantly moving forward step by step.
Take a stroll Downtown.
We can't wait to be open in a few weeks to be a part of your treasure hunt.

We enjoy our monthly meetings, and getting to catch up with the antique shop owners. Together we are creating a desirable Downtown. We appreciate their willingness to better business for everyone. Fun, exciting things are happening in Downtown Bakersfield.
© 2020 In Your Wildest Dreams Consignment & Antiques. Consignments and Antiques in Bakersfield CA.