COSTUME CALL OUT FOR CONSIGNMENTS!!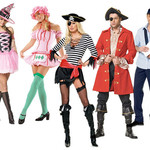 COSTUME CALL OUT FOR CONSIGNMENTS!!
Our customers need your costumes for resale at Wildest Dreams. This is how we do it! Recycle your costume pieces and everyone saves money and enjoys Halloween this year! Clean out your spare closets and trunks and bring in your costumes for consignment today. You get paid when it sells. Plus we will give you INSTANT store credit of $10 just for taking the time to bring them in. (must be acceptable pieces, minimum of 5 items) No appointment is needed to bring costume pieces in! No need to wait for drop and go either!

© 2020 In Your Wildest Dreams Consignment & Antiques. Consignments and Antiques in Bakersfield CA.