Earth Day Recycling event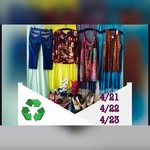 YOU CAN HELP THE ENVIRONMENT BY ENCOURAGING YOUR FRIENDS TO RECYCLE THEIR WARDROBE!

BRING A FRIEND TO WILDEST DREAMS
3 days of recycling Fashion!
April 21 st

, 22 nd, 23 rd
CLEAN OUT YOUR CLOSET
Clean out your closet and recycle your clothes in honor of Earth Day! Get great deals on Consignment Couture!
Wildest Dreams Celebrates Earth Day! You CAN make a difference too! Clean out your closet and recycle your clothes and get great deals on Consignment Couture!

Celebrate Mother Earth by recycling your clothing, shoes, and handbags. By refraining from "Fast Fashion" and purchasing new items, you can make an impact on Earth by trading in clothes you no longer wear for new or like-new items. It's time to think GREEN when it comes to your fashion consumption.

Did you know? Fast Fashion impacts the environment and our National Wardrobe is increasing dramatically! By recycling your clothing, you are doing your part to help our environment.

The U....S. Environmental Protection Agency recommends recycling your old clothes by working with resale shops since they offer you a way to make extra money, recycle unwanted goods and help the environment at the same time.

Consignment stores like In Your Wildest Dreams help slow and stop textile waste in our landfills, save water and help stop air pollution by the over production of fast fashion and we are taking a stand against unsafe and unhealthy working conditions in other countries.

Our owners, employees, and customers feel better about shopping resale consignment. You will discover that not only are you helping the earth, you are helping yourself!



What our Clothing Recyclers are saying:



· "When we DO choose to purchase a "New" Fashion Item, we consign it with In Your Wildest Dreams so we get some of our money back and make it possible for other members in the community to purchase high quality clothing for less."

· "We purchase most or all of our clothing from Wildest Dreams because we can buy designer labels for at least 1/3 the cost of retail."

· "We are supporting the community and local jobs."

· "We love the personal attention and feeling like we are a part of a community and family at In Your Wildest Dreams."

· "We like walking in and having "store-credit" from the items of ours that have sold. It's like FREE SHOPPING MONEY."

· "We consign our wardrobe pieces to earn extra cash for other things!"





Clean out your closet:

clothing, shoes, handbags, jewelry, hats and bring them down. Your clothes must be on hangers, clean, and wrinkle and stain free.

Shoes and purses must not be too worn. During this event, setting up your consignor account is FREE and your $10 annual membership fee will be waived along with your 2.50 drop off fee! Typically we are booked WEEKS out but during this time, NO appointment is necessary.

During this event, all consignors/recyclers (new and established) will receive 25% off of already low prices on HIGH fashion!

Bring in your own recycled bags paper and plastic bags to donate and you'll receive an additional 5% off your purchase!
© 2020 In Your Wildest Dreams Consignment & Antiques. Consignments and Antiques in Bakersfield CA.