Bakersfield Fashion Weekend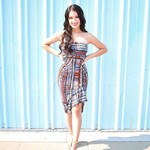 Join us for a community event highlighting fashion and design, local businesses, and showing that Bakersfield has grown not only in size but in culture and creativity. Partnering with over 40 businesses, we will be putting on an exciting weekend full of fun events and great sales. We want people to be able to put faces to local businesses and build up friendships and customer loyalty. Fashion is just one of the ways we express ourselves as a community, so let's celebrate it!
© 2020 In Your Wildest Dreams Consignment & Antiques. Consignments and Antiques in Bakersfield CA.