Welcome Vendors!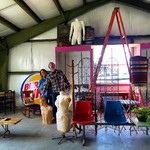 Our vendors are moving in! They have been stocking up on amazing inventory to put in their booths here at our new location!!! We can't wait to see what they all have in store. We are having a blast seeing them woodwork and make creative sets for displays.
Each vendor will WOW you with their different collections, styles, and irresistible inventory.

Here is a photo of "Disco Trash Vintage" setting up their 30ft of magic here at In Your Wildest Dreams.
We are still looking for more amazing, unique, hardworking vendors that want to get into our new location and have fun with us. Limited space available. Call Dixie at 661-343-3907 or leave a message at 661-324-6484.
Thank you everyone!
© 2020 In Your Wildest Dreams Consignment & Antiques. Consignments and Antiques in Bakersfield CA.