IYWD 2nd Annual Blow out sale!!!!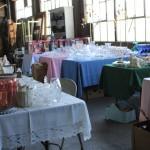 UNBELIEVABLE SAVINGS!!! Two estate have been brought into the store and staged on our 3rd floor. We have moved tons of aged store inventory to the 3rd floor along with new consignments and IT'S ALL ON SALE. Refrigerators, Maytag washer and dryer, sofas, chairs, tables of all sizes and shapes, bedroom furniture, dozens of hanging and table lamps, display cabinets, armoires, dressers, patio furniture, childrens furniture, vintage tools, architectural salvage, doors, project furniture pieces, to much to mention....ALL UPSTAIRS ON SALE. Savings throughout the store too. Vintage clothing, shoes, jewelry, costuming, books, art, antiques, linens, glasswares...EVERYTHING is ON SALE STOREWIDE.
We are hosting an estate sale on 5306 Edge Water in Bakersfield, Ca. 93312 this same weekend, Friday 27th & Saturday 28th from 7:30am to 2pm. Come check it out and grab a baragin or two.
Read more at http://estatesales.org/bakersfield-ca-estate-sales/estate-saleenjoy-the-journey-410879#KLiQXmGKsDKrS4Ym.99
© 2013 In Your Wildest Dreams Consignment & Antiques. Consignments and Antiques in Bakersfield CA.