January Second Saturday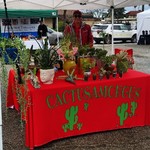 This month we will have 10 vendors in our parking lot! Loads of Loaves, Cactusamungus, Lipsense, DoTERRA Essential Oils, Sweet Nine Bakeshop, Honest Lyle Soap Co., Veronicas Leap of Faith NeedleStitch, Premier Designs Jewelry, Bowz & Arrowz & Scented Treasures. PLUS Free hot coco, and a storewide SALE of 105-50% OFF.
"SECOND SATURDAY IS A MONTHLY EVENT COORDINATED FOR DOWNTOWN BAKERSFIELD. WE CONNECT WITH THE FARMER'S MARKETS AND BUSINESSES OPEN ON SATURDAYS TO CREATE A FAMILY-FRIENDLY AND FUN EXPERIENCE ALL ACROSS DOWNTOWN.
We work with businesses to encourage special discounts, offers or experiences for guests to make Second Saturday an event not worth missing.
Every month, we release a new map of downtown the Monday before Second Saturday. The map includes details to all the businesses, farmers markets, and events happening so that attendees can plan their route for a fun day.
Hang Out.
Shop Around.
Get Involved."
© 2020 In Your Wildest Dreams Consignment & Antiques. Consignments and Antiques in Bakersfield CA.