New "Drop and Go" at IYWD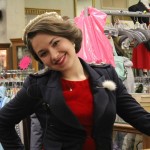 Consigning at IYWD has never been easier! You no longer need to wait for an appointment. This means that your items will be merchandised into the store faster and you'll be paid sooner!
New consignors must make an initial appointment to go over contract.
Call 324-6484
1. Drop and Go is available on Tuesdays and Thursdays from 11 am to 4 pm.
2. Drop and Go is for clothing and accessories only.
3. You may bring in up to 25 items in 1 appointment.
4. Items must be on hangers, wrinkle free, and fit the IYWD guidelines.
5.We will price your merchandise and add it to the sales floor in order received.
6. We cannot give you your hangers back but we will provide you with recycled to-go hangers at your request for your next visit.
All items not accepted into our inventory that are stained, torn, wrinkled, or are an unacceptable brand will be donated to a local charity. We will not go through your items during drop and go. They will be sorted and inspected by our receiving team. Call and check on the status of your account at any time 661-324-6484 or stop by during normal business hours to pick up your check or use your store credit.
Thank you for your business!
© 2020 In Your Wildest Dreams Consignment & Antiques. Consignments and Antiques in Bakersfield CA.