Now offered! Pick Up and Delivery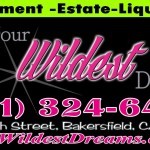 Ask us about our pick ups and deliveries. We have you covered for only $50 round trip. Items must all fit in the truck when we pick up. If we make two trips, an additional $50 will be charged to covered time and fuel costs.
Thank you!
© 2020 In Your Wildest Dreams Consignment & Antiques. Consignments and Antiques in Bakersfield CA.