THE BEST 3 DAY SALE EVER!!!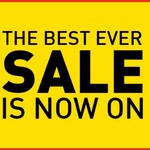 SALE STARTS THIS THURSDAY JUNE 25th, FRIDAY JUNE 26th, and SATURDAY JUNE 27th from 10:00 am - 5:30 pm
We are overflowing with consignments and we've got DEEP DISCOUNTS on our MAIN FLOOR CONSIGNMENTS AND THIRD FLOOR STEALS on HOME GOODS. Hundreds of boutique closeouts arrived ALL NEW WITH TAGS AND ON CLEARANCE. Third Floor BLOW OUT on furniture and Home décor. Bed Frames, and sofas, dining tables, electronics, recliners, art, frames, and hundreds of new consignments.
Main FLOOR: ALL Vintage 50 % OFF. ALL Shoes 40 % OFF. ALL Jewelry and Designer Label Handbags 30 % OFF. 20 % OFF ALL regular priced clothing in the store
Visit the newly remodeled basement and check out new vendors for handmade goods, re-purposed furniture, and funky stuff you just won't find anywhere else at Whistling Dixie's Co-Op inside In Your Wildest Dreams.
FREE Sno Cones, cold beverages, snacks ALL THREE DAYS.

Sign up for Send-ME-DEALZ at the kiosk at the register for an additional 10 % OFF your entire purchase.

NOW IS THE TIME TO SHOP!


BASEMENT NOW OPEN, SEE OUR NEW VENDORS
*Basement excluded from ALL SALES
SPACES AVAILABLE
Call 805-1064
© 2020 In Your Wildest Dreams Consignment & Antiques. Consignments and Antiques in Bakersfield CA.