Vendor Spaces Available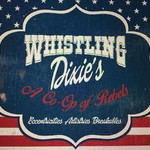 Attention all Artists, Collectors, Craftsmen, and Entrepreneurs: Share your passion with our customers! Join our TEAM!
BIG NEWS! The basement at In Your Wildest Dreams is getting ready for remodel. We are very excited to announce the addition to our In Your Dreams Family, "Whistling Dixie's"
Dare to be different. Join like-minded people and share your craft and passion with Kern County.Whistling Dixie's Co-Op gives local vendors an opportunity to showcase their unique art, craft, or collection. Shopping local for unique items is made possible all under one roof. Our goal is to offer an outlet for local talent and collectors to showcase and sell their merchandise. We invite you to be a part of our movement, where friendships are created, and rebels play and sell.
BE YOU. BE A REBEL.
Reserve Your Space Today!
In business for over 13 years and has developed deep roots in the community.
In Your Wildest Dreams, home of Whistling Dixie's aggressively advertises on TV, Radio, Social Media, and in local magazines and newspapers.
75% of visitors to website are new, unique visitors 1000+ each month
Paperless Loyalty Program in place to encourage regular frequent shopping
Hosted events: Sip and Shop, First Friday, Bakersfield Amazing Race, etc.
Located by the world famous Padre Hotel providing a steady flow of shoppers
Friendly staff trained in customer service, sales, and loss prevention
Active members of the Downtown Business Association
Over 5000+ Facebook Followers and growing, Large Email Data Base
Extensive network of local consignors, estate sale consumers, and treasure hunters
Professional Industry Software, Consign Pro, to track your sales accurately
Convenient loading dock for easy deliveries of your merchandise
Reserve Your Space Today! Call Ginger at 805-1064 or Candace at 932-5903.
SHARE IF YOU SUPPORT LOCAL BUSINESS AND LOCAL TALENT!
© 2020 In Your Wildest Dreams Consignment & Antiques. Consignments and Antiques in Bakersfield CA.